Eighty thousand dollars is a lot of money to spend on a car. Even here in 2021, with the average new vehicle transaction price hovering around $40,000, that's a significant chunk of change — enough to buy a BMW M3 or Mercedes-AMG C63, a loaded Lexus GX 460 or Lincoln Aviator, even a Tesla Model S or a Porsche Taycan (well, almost). Hell, you can buy a pre-owned, well-maintained Ferrari 360 Spider for that kind of cash.
Or, alternatively, you can buy a half-ton pickup truck.
Yes, we've now reached the point where the iconic all-American pickup, the Ford F-Series, can ring up the register at (or even a tad above) $80,000. That is, at least, in top-trim F-150 Limited form, which sits atop the lineup for the folks who don't find Platinum or King Ranch fancy enough.
Insane? At first blush, yeah. In an era where automotive loans commonly approach Rip Van Winkle nap timeframes, it's easier for buyers to justify spending big bucks by spreading it out over many monthly payments — but even so, dropping eighty stacks is tough. As of this writing, the Ford website finance offer on the F-150 Limited currently consists of a down payment of $7,252, followed by $1,038 payments every month for 84 months.
MUSIC: BothSide Feat. Asake – Organize (Hausa Version) Mp3 Download
Video shows Memphis police officers kicking, beating Tyre Nichols
GNI Promises Policy-holders Of Genuine Claims Payment
But here's the thing: while the idea of dropping luxury car money on a pickup seems crazy in theory…once you spend a little time in one of these regal rigs, it starts to feel almost logical. In fact, this new Ford is packed with all sorts of ingenious features that, combined with its immense inherent capability, arguably make it the vehicle most worthy of dropping $80K on here in 2021.
The F-150 Limited's interior feels worthy of the hefty price tag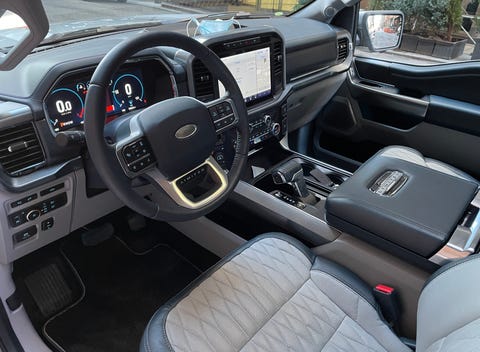 When I say "eighty thousand dollar car interior," your mind probably jumps to something like a Mercedes-Benz S-Class or a BMW 7 Series — an elegant top-shelf sedan's guts, redolent with wood trim and rich Corinthian leather that smells like the inside of a gentlemen's club. Well, if that's the level of your expectations, you may need to recalibrate…and not least because the nicer interiors on those cars only come when you spend closer to $100K these days.
Compared to the actual level of automotive luxury found at this price range, however — especially in the Big Three's brands — the F-150 Limited's interior seems quite acceptable. Hope you like Eifel 65, because you'll be humming their 1998 earworm every time you climb inside; Admiral Blue leather bedecks just about everything inside, with most other trim color-matched to suit. Whether it's your cup of tea or not, though, there's no arguing with the fact that it looks nice in a distinctly American way (and, not coincidentally, a bit like the Lincoln Navigator's insides).
The F-150 Limited PowerBoost: Big truck, big name, big power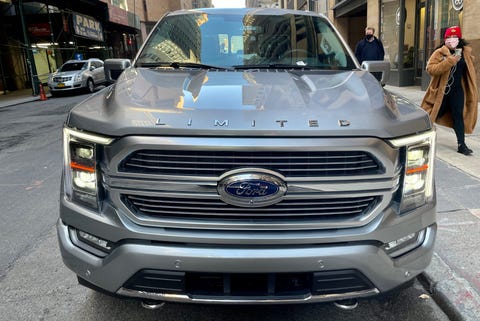 Opt for the F-150 Limited, and it's guaranteed to come with a twin-turbo 3.5-liter V6 under the hood; V8s and diesels and smaller-displacement six-pots are relegated to lesser models. You do, however, have the choice of having it in regular or electrically-assisted hybrid flavors. Choose the latter, and you'll see your pony count rise from 400 to 430, and your torques go from 510 lb-ft to 570.
Even in spite of the F-150's mass — it tips the scales at north of three tons on its best day — that power makes the truck feel spritely both off the line and even when accelerating at highway speeds, thanks to the fast-acting capability of the small electric motor smushed between V6 and 10-speed automatic. It feels very much like it's capable of running a 0-60-mph dash in the low five-second range. Again, this is a pickup truck — and not a performance-oriented one like a Raptor or Ram 1500 TRX, but one meant for regular everyday use.
Plus, the electric motor is juicy enough to enable seamless stop-start and even bursts of electric-only driving when inching through. If Ford weren't planning on using the Lightning name for its new F-150 EV, dropping this powerplant into a short-bed single-cab street truck would seem like a recipe for instant fun.
Oh, and don't forget: while highway fuel economy may only be one mile-per-gallon better than the non-hybrid 3.5-liter EcoBoost F-150, city fuel economy is six mpg better — so if you drive in town a lot, you'll see significant savings at the pump.
The cabin doubles as a mobile office…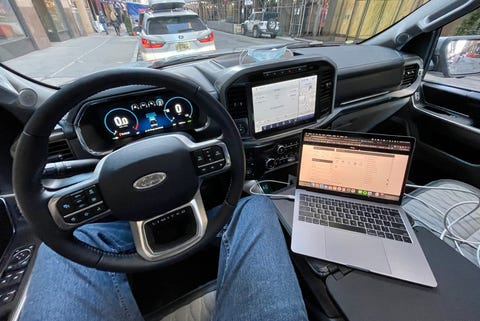 In planning the F-150's mid-cycle refresh, Ford discovered that many an owner uses their truck as a mobile workspace, so the Blue Oval added a few touches to help. The Interior Work Surface — a $165 option — is a lifesaver for anyone who's ever needed a little extra room to spread out food or equipment in the cabin. Press a button to power the shift lever out of the way (obviously, this only works in Park) and flip the top of the center console forward, and boom — there's enough room to spread out a laptop or paperwork (or, as many of us will probably use it, a smorgasbord from the Arby's 2 for $6 Everyday Value Menu).
Staying charged and connected isn't an issue, either. On-board wifi is available through the F-150's built-in 4G LTE hotspot (though, of course, you have to pay for a subscription). Not only does this truck boast a plethora of USB ports, it also has a 110-volt three-prong outlet. And as a bonus: because of the 1.5-kWh lithium-ion battery that sits below the bed that supplements the gasoline motor, you can leave the truck on while you work without leaving the V6 idling (apart from the occasional brief burst where it turns on for a moment). Bottom line: never have I felt more productive while waiting in the car for a New York parking spot to go from off-limits to acceptable.
Forgive the awkward picture, as I was force to prop my phone at an odd angle to grab the shot, but it gets the point across: the F-150's $340 Max Recline Seats really do live up to their billing. At six-foot-four, I was able to stretch out my spine to its fullest and still have plenty of space — though, admittedly, that was with my legs dangling at the knee, a position that's more conducive to power napping than a good night's sleep. (That said, shorter folks could use the space to pass the night away.)
The Max Recline Seats — which, for the record, are only available on higher-trim trucks — do come with a caveat, though: not only do you have to opt for a crew cab to have them, but the rear seat needs to be empty in order to use them, as the benches have to fold upwards against the seat backs to make room. That means that anything in the rear seats needs to relocate, or else you ain't reclining — and if it's not something you feel comfortable leaving in the bed, it needs to squeeze onto the floor somewhere. (Luckily, the rear bench folds in two pieces, so you can leave one down if you only need room for one day bed.)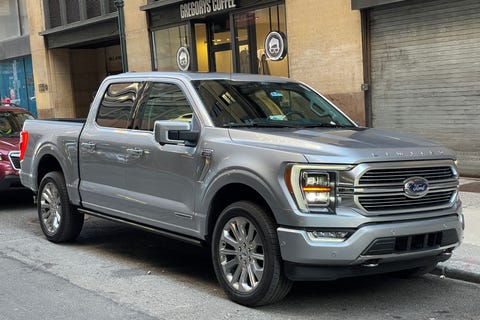 And this is only the tip of the iceberg. Other features I didn't even mention: the fact that the F-150 can receive over-the-air updates, will offer Ford's own Level 2 semi-autonomous self-driving system that lets the owner go hands-free on many highways, can tell you how much weight you've loaded into the bed, lets you adjust many features with a smartphone app, a trailer backup assistance system that makes reversing with an Airstream or other awkward attachment as easy as turning a dial, and more.
Oh, and let's not forget that, on top of all that, this is still a crew-cab pickup truck, with S-Class-like legroom in both rows, more nooks and crannies to hold items than your grandmother's five-piece sectional, a five-and-a-half-foot-long bed capable of hauling hundreds upon hundreds of pounds of gear, the ability to tow five tons or more, and a four-wheel-drive system with low range.
Yeah. $80,000 doesn't sound like quite so much now, does it?